The purpose of this thread is to share tips/tricks of automotive photography.
Feel free to post questions, ideas, techniques, or samples of work.
I've personally been interested in car photography for a long time, but only recently started to try and learn some ways to improve my work. I'm working with a basic digital SLR. I'll gladly share the limited knowledge I have if anyone has specific questions.
Topics to discuss:
- Photo composition
- Shoot locations
- Good / specific shooting angles (full car and close-up)
- Post production editing tips
What are you thoughts? (these are just a few topics to get things rolling on the thread)
Also, take a look at this link if you're a first-timer, its a pretty comprehensive guide for the basics:
http://forum.e46fanatics.com/showthread.php?t=417604
Lastly, here's a sample of my work (including post-production editing):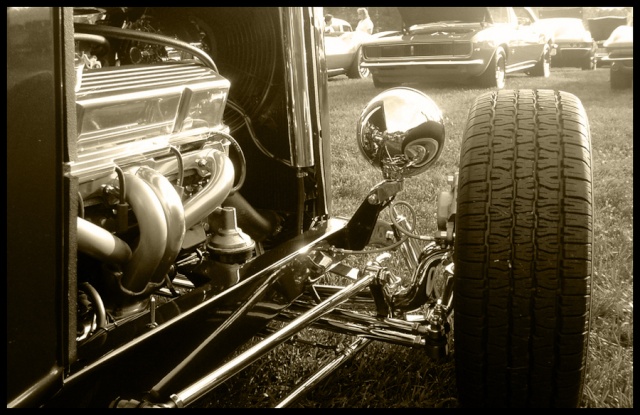 I really love this type of photography, but i kinda suck at it lol. Happy to learn more though!!
Admin




Posts

: 109


Join date

: 2008-05-05


Age

: 32


Location

: Chicago/Waltham IL/MA



Here's another link to what seemed like a pretty good run-through of the basic tips of automotive photography: (Ian, you might like the subject cars)
http://www.cobracountry.com/fototips/
in terms of choosing a location, my theory is industrial location + nice car = good picture



Posts

: 65


Join date

: 2008-05-05



Anyone done HDR imaging before? I just started playing around with a trial version of a program called "photomatrix" that I saw on some other forums. In case you don't know what HDR is or does, it combines images of different exposure levels to capture the most detail and range of tones into one image. Here's a sample of some test photos I took last night and what I combined them into:
Beginning photos (same picture as different shutter speeds to get dark, normal, and light exposure levels.
And here's the final product. (It's not quite as impressive as some of the images you'll find if you search "HDR photo" on google images)

a lot of guys on svtperformance are into hdr. I guess you need several pics of the same exact thing and overlap them like you said mark. But supposedly you can use photoshop to mimic the look. Its clearly nothing like a true hdr look tho



Posts

: 65


Join date

: 2008-05-05



Those are great pictures "slowster". I like the use of depth of field in the BMW photo, but I think you have a second calling with photography!



Posts

: 14


Join date

: 2008-05-06





Similar topics
---
Permissions in this forum:
You
cannot
reply to topics in this forum